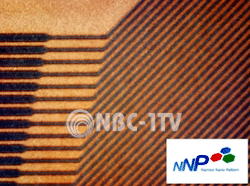 [By NBC-1TV H. J Yook]Korea's surface plating technology development company, NNP Co., Ltd. (President Chun Seop Hwang, www.nnptechno.com), developed a new concept exposure based on micro pattern implementation technology.

The exposure is a device made by photolithography technology creating a photosensitizer made of materials to cause a reaction to constant light and a shape of a pattern through investigating the light in a photomask where a minute pattern is formed. It is used as a mandatory element of the semiconductor and display industries including the processing sector of FPCB (flexible printed circuit board) fine shape, particularly indispensable for high picture quality of display products.

Most of the exposure products that have been introduced so far were a collimated light exposure based on surface light source, which converted diffused lights into collimated lights via reflectors; they were comprised of a large number of reflectors (high-precision lens). However, lens price and maintenance costs, etc. were unsatisfactory.

The exposure, introduced by NNP, used the lens technology developed through 'the Support Business for Commercialization of Production Technologies' of the Korea Industrial Complex Corp. It has a characteristic of realizing minute patterns boosting the optical power of UV scattered lights from multi-directions using the light gathering power of unidirectional convex lens. It introduces a new concept light exposure technology scanning incident lights in nano-linear light source as moving the lens section.

Particularly, the circuit surface, which is displayed through using the self-developed specialized lens as comparing to LDI that is point light source, has a characteristic of being very flat. This is a lens integrating the features of convex lens and concave lens; this realizes collimated lights of linear light source as the initial UV lights are passing through the lens section to gather lights.

NNP Co., Ltd., which started with surface plating business of electronic components in 1991, became Korea's eco-friendly cutting-edge technology-intensive enterprise to currently proceed with various micro-circuits molding and development of electrical and electronic materials.

While, until recently, building diverse technological assets such as three-dimensional metal thin film fabrication technology, micro-patterning techniques, electro-coating technology, unidirectional convex/concave lens manufacturing technology, copper mesh production technology for EMI (electromagnetic interference shielding), etching-free FPCB (Flexible Printed Circuit Board) technology, etc., we are striving to become an enterprise specializing in cutting-edge parts and materials.